About County eBikes


Award-winning electric bike specialists

Based in Andover in the idyllic county of Hampshire, County eBikes was formed in 2020 from one man's passion for electric bikes as an efficient, accessible, cost effective, and environmentally conscious form of transport and exercise.
"Customer satisfaction is what matters most to us and we won't be beaten on price."
County eBikes is wholly owned by UK independent eBike manufacturer Mark2 Bikes Ltd.
Within just a few months of trading, we were already winning awards for our exceptional standards of customer service; providing customers online and off with high quality eBikes from well known brands, thorough and timely eBike repair & servicing, and advice & guidance wherever possible.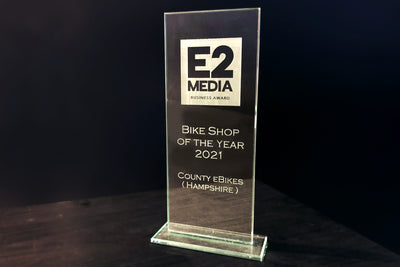 eBike delivery & mail order
Although rooted in Hampshire, County eBikes sells electric bikes to people all over the country (and sometimes the world!) via our online shop, meaning the team at Hampshire eBikes possesses extensive knowledge and experience in packaging and shipping eBikes specifically for delivery; ensuring that, wherever you are in the country (or the world!), your eBike will arrive safely & securely.
Offering so much more than eBikes for sale
Whilst selling eBikes & eBike accessories online is, of course, our main venture, County eBikes offers our customers so much more than simply high quality eBikes & accessories for sale from well-known and respected brands!
We also offer test rides for those local to our premises in Andover, Hampshire (in line with COVID-19 guidelines & restrictions); advice & guidance, and eBike repair & servicing of all eBikes, whether bought from us or otherwise.
By offering these additional services and support we hope, not only that our customers will get the very best out of their electric bikes, but ride away on their eBikes feeling confident in their abilities and capabilities.